Nu har jag haft en kull på Jo-Li, hon har varit fantastisk som mamma. Vi visst ju redan att hon är en otroligt rolig och charmig hund. Ett stort tack till JoLis ägare Francine för att vi fick låna henne.
Här kommer Francines egna ord om Jo-Li.
Joli is my first dog and I was initially worried that she would be too much to handle. She has always pushed her limits in everything she does. We took agility classes together for about 18 months and she was great at it, when she wasn't interfering with the other dogs in the class. She is fast, she can jump (sometimes it seems like she can change directions in mid-air), she is fearless, and she is quick thinking.
Now Joli is 4 ½ years old and a mother. She is still very energetic and I hope that she will stay that way. She is healthy and has not had any medical problems so far. Joli has always had a pleasant, happy temperament that remained consistent all the way through her pregnancy.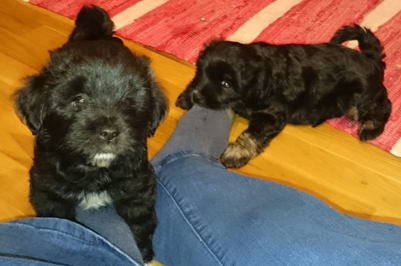 Joli was 7 or 8 weeks old in this photo. This was when I knew she had picked me to be her human.
Here is Joli enjoying the snow the week after she came to live with me. At this point I was a little bit afraid that I wouldn't be able to handle her but everything worked out fine. I'm really glad that she is in my life.
Jo-Li har även gjort BPH